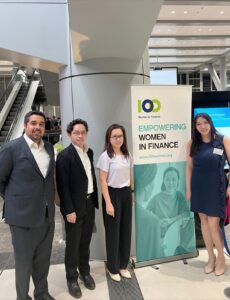 100 Women in Finance, headquartered in New York, is a non-profit organisation that aims to strengthen the global finance industry by empowering women to achieve their professional potential at every career stage. The organisation's JumpStart programme introduces students to finance and connects them with experienced professionals, fostering the financial leaders of tomorrow.
As part of this initiative, our IQ-EQ Asia team comprising Clare Chang, Connie Chan, Jayesh Peswani and Brian Lau, led a Speed Mentorship session, providing guidance to aspiring finance professionals.
By supporting this program, we champion gender equality and responsible business practices in the finance industry. IQ-EQ's commitment to DE&I in Asia is evident, and we look forward to more opportunities to promote diversity and inclusion.
Together, we are shaping a more inclusive and equal financial future.