A total of 53 of our colleagues from Cebu and 20 from Manila all came together to visit the new office for our opening celebration! It was livestreamed so the rest of the Manila team could witness the momentous occasion and celebrate with their colleagues. It was a great day filled with fun interactions between colleagues turned friends, some of whom had only ever interacted online.
Team members from Cebu and Manila worked together before the actual event commenced. Cebu employees also received special jackets and work-from-home kits.
And then the fun began! Apart from the ribbon cutting and a delicious dinner, the management team was also able to share a few messages; the Cebu team shared what made them excited about the new office; and their colleagues from Manila congratulated them in a special video! Seeing everyone coming together in celebration of our growth, which we have all worked hard for, makes us even prouder to be a part of this team.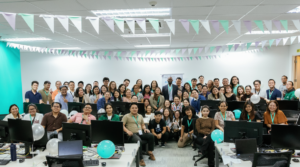 Thanks to our Cebu and Manila colleagues who made this possible. Together, we continue delivering our satellite office strategy, bringing work closer to home and enabling our people to stay closer to their families and communities.