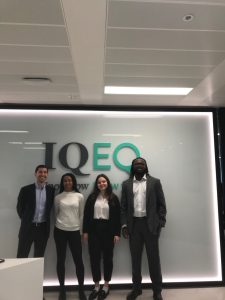 This summer, 5 interns have joined our London and Belfast offices to take part in a 3-month internship. We checked in with Daniel Tongo from our Talent Acquisition team who led this initiative, as well as two of the interns to see how they are getting on!
Daniel Tongo, Regional Talent Acquisition Manager – UK, Ireland and Crown Dependencies
One the key reasons/drivers for me engaging with Generation Success upon joining IQ-EQ last year was being able to transform the horizons and prospect for young adults who come from underrepresented communities across financial services in UK & Ireland by offering paid work experience across a wide range of functions here at IQ-EQ along with first class training and development.
At the end of the internship we hope this leads to a permanent opportunity or the experience gained will set them up for success for their future endeavours.
Michael Lutter, Compliance Associate
My first month at IQ-EQ has been very fun, engaging and varied. From getting stuck into the complex world of Private Equity and Fund Management, to the volunteering away-day cleaning up the Regents Canal by canoe, there has been no shortage of ways for me to develop myself both personally and professionally. Everyone I have met across the company, from associates, through to directors and the CEO have all been exceptionally welcoming, easy to talk to, and supportive, and I could sense this attitude from the interview which is why I opted to accept the internship. I have now also been given responsibility to begin monitoring a select pool of clients which is proving to be a very useful way for me to employ my critical reasoning skills and apply the knowledge I have developed since starting. I'm looking forward to the rest of the internship!
Charlotte John-Jules, Account Assistant, Funds
I am currently 5 weeks into my internship and it has been a fantastic experience so far. I have gained some insight into the role of a fund accountant and client services manager. For instance, I have taken on tasks such as reviewing the workbooks before their contents are shared with the clients, and then also participating in these client meetings. I have learned so much from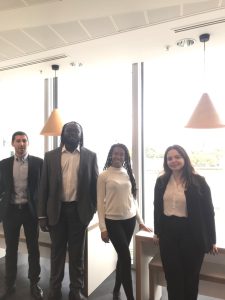 the members of the teams I have been working alongside about what each of them do, about the company, and even received some advice about my future career in accounting which I consider truly invaluable.
Aside from work, IQ-EQ have a team called CHESS dedicated to making staff experience enjoyable outside of what they usually do every day. There have been different social events for all who wish to participate. For example, there was a Pride Raffle – with a donation to an LGBTQIA+ charity one would receive raffle tickets for a chance to win 1 out of 8 books writtenby an LGBT+ author. Very recently, there was a volunteering activity with Moo Canoes, there were about 30 of us who went canoeing and picking up any rubbish we could find along the canal. The experience was incredibly rewarding, never ever thought I'd get so excited to fish out a 1.5L bottle of bodily waste products out of a canal.
Thanks everyone for sharing your experiences, and we hope you have a great time at IQ-EQ!